Search the condos and townhouses for sale in The Windmill Club, Howell NJ. Find your new home today!
About the Windmill Club
Whatever you're looking for, be it a condo, townhouse or even a detached home – it's in the Windmill Club in Howell. 382 homes are here, which were constructed around 1980. It has a great location on Route 9 because you can walk to the buses.  This is a great community close to all transportation, dining and shopping. And – it's close to the Jersey Shore beaches!
The Windmill Club has a homeowners association, therefore a monthly fee is assessed. This fee covers exterior maintenance of the buildings, grass cutting, snow removal and more. In addition, residents have use of the clubhouse, the outdoor pool, tennis, basketball courts and more. And you'll be glad to know that your pets are welcome in The Windmill Club in Howell.
The Homes
The homes are a combination of condos and townhouses. Condos can be found on both the ground and the upper level. Additionally, there are a few detached homes. The homes have either 2 or 3 bedrooms. Many homes have a garage, and some also have a basement. The two bedroom townhouses also have a loft on the second floor, in addition to the two bedrooms. This loft area is large enough to be converted into a bedroom, and indeed, many owners have done that.
It's also possible to convert part of the garage into living space, and usually a window could be added. Verify with the association first before starting that project.
Some of the buildings have had siding installed. However, many still have the original T-111 siding. It's unknown whether the remaining buildings will have vinyl siding installed.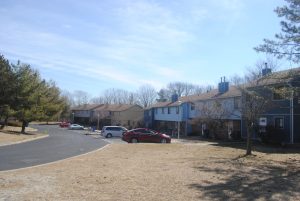 Financing
The Windmill Club is not approved for FHA financing. However, other mortgage programs are available to qualified borrowers which offer similar low down payments. New FHA financing regulations may be of benefit to you.
Education
School age children who reside in The Windmill Club will attend the Howell School System. This school system has 10 schools which offer education for Pre-K through eighth grades.
When the students enter high school, they'll go to one of the schools in the Freehold Regional High School District. In addition, both the Freehold Regional High School system and the Monmouth County Vocational District offer specialized programs to high school students. Additionally, there are numerous private schools nearby.
The six schools in the Freehold Regional High School District offer twelve unique magnet programs in specific, focused areas. Students are accepted into these programs via a competitive process. Students who are admitted into the programs will attend the school which offers that particular program as their home school, regardless of which town they live in.
Recreation
Howell Township has an extensive public park system. And the parks in the Monmouth County Park System are available as well, including the eight public golf courses. The Manasquan Reservoir is in Howell, it features a hiking or bicycle trail around the perimeter which offers great water views.
Transportation
Bus service to New York and more is nearby, within walking distance. Access to major roadways in the area, such as Route 195, Route 9, Route 34 and the Garden State Parkway is readily available. Plus, train service to New York is available, the nearest New Jersey Transit train station is in Belmar.
When you're ready to either buy or sell a home in The Windmill Club in Howell, please call Bunny and Art Reiman – Realtors. Let us help you find your new home, just as we've helped hundreds of families find theirs.
Our Web Sites
Monmouth County Active Adult Communities
Ocean County Active Adult Communities
Barbara "Bunny" and Arthur Reiman
Realtor Associates
Woodward Realty Group
55 W Main St
Freehold NJ 07728