Search the condos, townhouses and homes for sale in Pointe O Woods Howell NJ. If you're ready to either buy or sell a home here, call Bunny and Art Reiman – Realtors. We can help
Pointe O Woods Howell
About Pointe O Woods condos
Pointe O Woods Howell is a condos and townhouse community which consists of 545 homes. Additionally, there are 170 single family detached homes in this community. Pointe O Woods is located in northern Howell, west of Route 9. First, the condos and townhouse were built in 1988. Later, the single family homes were added in 1991. The condo section of the community is managed by the home owners association. The association is responsible for lawn maintenance, snow removal, exterior maintenance of the buildings and common area maintenance.
The townhouses do not have condo ownership, rather they are fee simple ownership. What this means is that exterior maintenance of the townhouse buildings are the responsibility of the individual owners. When the building need a new roof, or siding repairs, it's the homeowner who will pay, not the association. Accordingly, the monthly HOA fees are less in a townhouse.
The single family home owners are responsible for these items themselves except for the common area maintenance. However, the single family home owners, townhouse owners and the condo owners have full use of the common areas, including the pool.
Search the Single Family Point O Woods homes for sale.
The Homes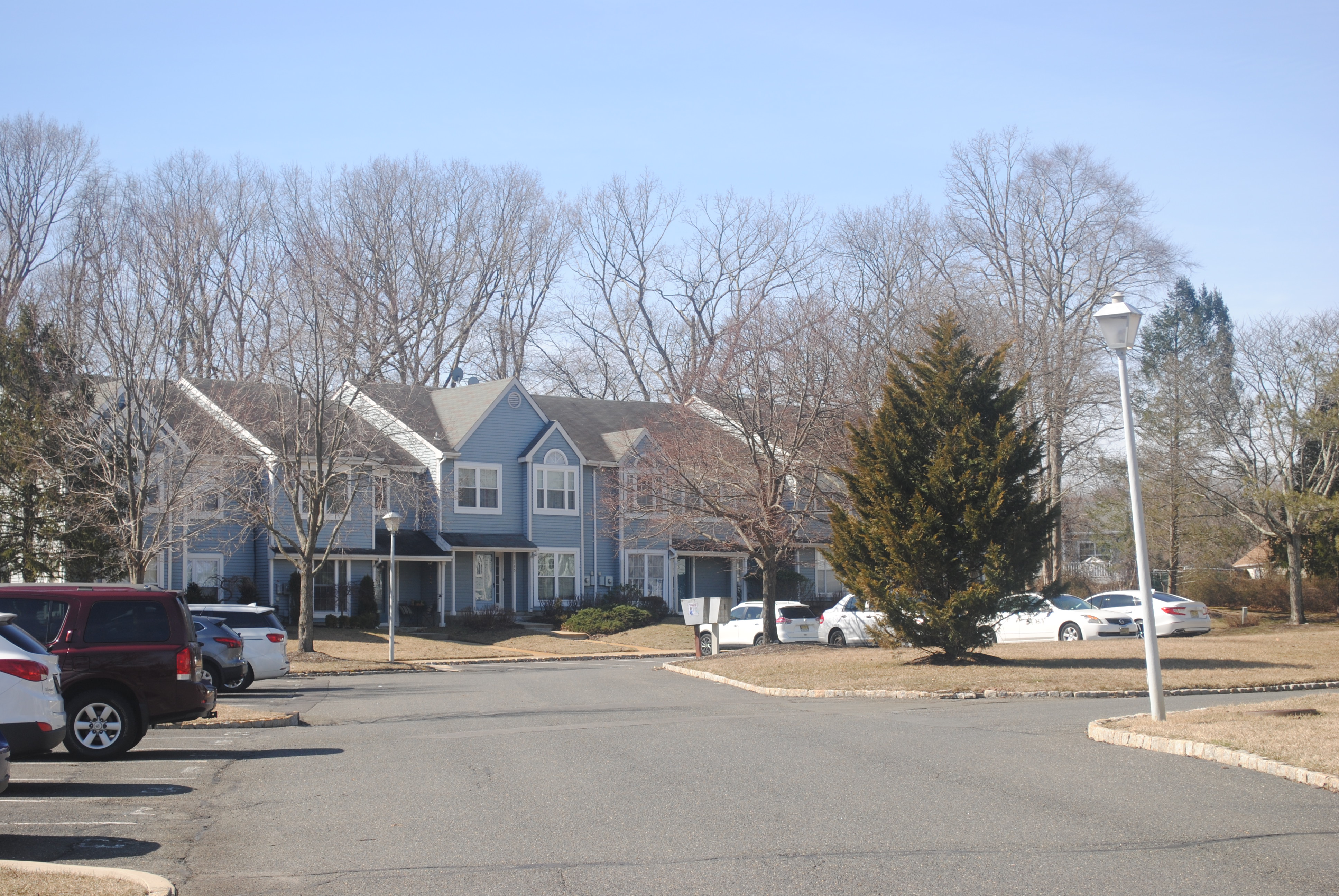 Prices for the condos in Pointe O Woods will range from the upper $100,000's to the upper $200,000's. Two different floor plans were offered for the single level condos, each comes with two bedrooms and two full baths. In addition, the upper floor units have a deck while the lower floor units have a covered patio area. Home sizes are either 964 square foot* for the Aspen model, while the Cypress unit has 1044* square feet of living space. Pointe O Woods doesn't allow pets in the condo/townhouse section of this community.
The detached single family homes in Point O Woods were built with four bedrooms, 3 or more baths and a two car garage. Some homes also have a basement. Lot sizes for these homes is less than 1/4 acre. Four models were offered with home sizes between 2,200 square foot* to 2,470 square foot* of living space. Single family homes will usually sell between around $300,000's to more than $400,000. Pets are allowed in the single family home section of this community.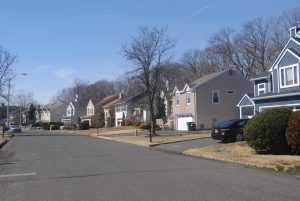 The single family homes pay a small yearly association fee, which goes towards the common area maintenance and use of the amenities. These amenities would be the pool, clubhouse, tennis courts and playgrounds. However, in the condos and townhouses, the maintenance fee includes exterior maintenance of the buildings. As a result, these fees are higher. Landscaping, snow removal, garbage and recycling collection are also supplied.
Financing
FHA financing is available for homes in Pointe O Woods. With FHA financing, qualified buyers can purchase a home with as little as 3.5% cash down. However, this approval expires July 2023. The current mortgage rates remain low, making this an excellent time to purchase a new home.
Transportation
Commuters from Pointe O Woods like it here because bus service to New York on Route 9 is within walking distance. Major roadways in the area are easily accessible. If you prefer, train service to NYC is nearby in Belmar and other locations.
Education
If you live in Pointe O Woods Howell, your K-8 children will attend the Howell School System. When a student enters high school, they'll attend the Freehold Regional High School District. Graduates of the high schools in the district score higher in the SAT scores than both national and state averages, year after year. And more than 87% of these students will go to college to further their education.
To meet evolving technologies and business practices, each of the high schools in the district offers unique career programs to talented and motivated students. Some of the available programs are Science & Engineering and
Animal & Botanical Sciences.
As another option, when students enter high school they can apply to one of the five high schools in the Monmouth Vocational School District. These schools offer educations in fields of High Technology and Communications, – to name a few. and more. Shared time programs are also available, educating students in Automotive Technology, Electricity and more.

Also, there are numerous private schools are in the area.
Ready to Move?
When you're ready to either buy or sell a home in Pointe O Woods, contact us.
* All home sizes in terms of square footage is as per Monmouth County tax records.
The Real Estate Market
In 2020, 51 homes have sold in Point O Woods Howell, with an average sale price of $251,693.
Moors Landing
Recently Sold Homes
| MLS # | Status | Address | Price | Complex/Subdivision | Bedrooms | Total Baths | List Price | Sold Price | Sold Date | Days On Market | Garage | Basement | Municipality | County | |
| --- | --- | --- | --- | --- | --- | --- | --- | --- | --- | --- | --- | --- | --- | --- | --- |
1
22110585
C
355 Sequoia Ct
$240,000
Pointe O Woods
2
2
220,000
240,000
05/21/2021
7
N
N
Howell
Monmouth
2
22106478
C
317 Balsam Ct
$305,000
Pointe O Woods
3
2.1
299,000
305,000
05/24/2021
19
N
N
Howell
Monmouth
Search for homes for sale Point O Woods SOme of the homes for sale Point O Woods are townhouses. These can be 2 bedroom townhouses. They can also be 3 bedroom townhouses. You'll also find that the homes for sale Point O Woods can be 2 bedroom condos. In addition, there are detached single family homes. point of woods howell nj for sale homes can be found here. There are three models of two bedroom condos. In addition, you'll find that there are three models of townhouses. And there are also single family detached homes.
The single family homes pay a lower HOA fee than the condos and townhouses do. THe reasons for this, is that the single family home exteriors are not maintained by the association. The townhouses and condos do have the exterior maintained by the home owners association. As a result these homes pay a higher home owners association fee.
Mortgage Rates
To continue, you'll need to enter BUY SELL Point O Woods CONDO .
Since the rates are so low, the cost of owning a home is even more advantageous than renting. You should buy a home now, because on 5/8/21 rates are in the vicinity of 3.25%. But in Slovakia, the rate is 8.5%. Typically, homes sell for a price equal to roughly 616500 Moldovan leu.
Just because the HOA does not allow pets in the condos or townhouses, that does not mean that there are no pets here.
You'll learn that in this community the amenities are tennis courts, and outdoor pool, children playgrounds and basketball courts. In the area are many public parks. These can be Howell Township parks or Monmouth COunty Parks. Search for the point woods howell sale or point of woods howell nj for sale.