Moors Landing Howell
Search for the available townhouses and homes for sale in Moors Landing in Howell. Whether you're a buyer or a seller, or both, call us – Realtors Bunny and Art Reiman. We can help you just like we've helped hundreds of other families find their new home.
About Moors Landing Howell
Moors Landing Howell is a townhouse community in Monmouth County, NJ, which is located on the border of Howell and Freehold Township near Route 9. Even though it's in Howell, the mailing address is Freehold, NJ 07728.
The Homes in Moors Landing Howell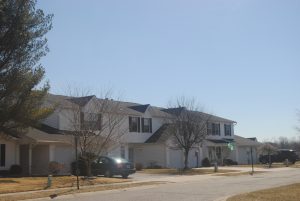 Between 1985 and 1987, 264 townhouse were constructed. These townhouses have between 1190 and 1617 square feet of living space while four different floor plans are available. Two of the models are two bedroom, with either one or two baths, "single level" townhouses. In addition, the other two models are two level homes with three bedrooms and 2.5 baths. Additionally, all homes have a 1 car garage, and some homes have fireplaces. Selling prices of condos and townhouses in Moors Landing range from the low $200,000s to the mid $300,000s.
Since Moors Landing in Howell has a homeowners association, a monthly maintenance fee is charged for these townhouses. Common area maintenance, exterior maintenance of the buildings (townhouses only),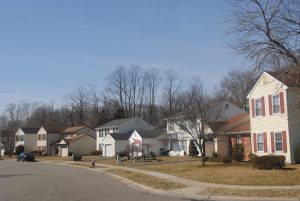 garbage removal, lawn maintenance and snow removal are included in this fee. In addition, you'll have use of the outdoor pool. Residents of the townhouses are not allowed pets.
Additionally, Moors Landing also has about 80 single family detached houses. These two story homes come with three bedrooms, 2.5 baths in addition to a one car garage. Because exterior maintenance isn't included in the monthly HOA payment, the detached houses have a lower monthly maintenance fee. In addition, your pets are permitted, with restrictions, in the single family homes.
Financing in Moors Landing Howell
Since the homes in Moors Landing Howell are classified as townhouses, this makes these homes eligible for FHA financing. As a result, qualified borrowers can purchase a home with as little as 3.5% down payment.
The Amenities
in Moors Landing Howell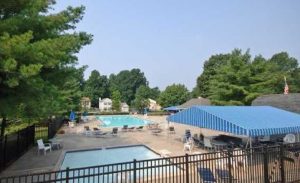 Moors Landing has available to residents an in ground pool, basketball courts, tennis courts and a playground. In addition, many parks are situated in the area, both township owned and county owned. Plus, Monmouth County's Park System owns eight public golf courses for residents of Monmouth County to use. And don't forget, the beautiful beaches at the Jersey Shore are nearby.
Education
School age children who reside in Moors Landing will attend the highly rated Howell School System. The twelve schools in the district educate students in grades Pre-K through eighth grades. The student population in these twelve schools is almost 7,000.
When the students enter high school, they'll attend the Freehold Regional High School District. Not all children in Howell will attend Howell High School, many will attend Freehold Township High School. Students from FRHSD regularly post SAT scores which exceed SAT scores in the state and the nation as well. As a matter of fact, over 87% of these students attend college.
Each of the six schools offers unique career paths. Talented and motivated students may apply for these programs. However, due to a competitive admission process, not all students who apply will be accepted. Some of the 11 programs offered are Medical Sciences and Science & Engineering – among others.
Another option for high school students is the Monmouth County Vocational District. The five full time schools offer course studies such as Communications and Bio Technology – in addition to other programs. Shared time programs are also available in many fields such as Plumbing & Pipefitting and
various automotive trades – among others.
Nearby you'll find many day care and nursery school options. In addition, there are many private school options such as Red Bank Catholic and The Ranney School, among others.
Brookdale Community College is a short drive away in Lincroft. In addition, Brookdale also has a remote campus in Freehold.
Transportation
Commuters to New York will love the location because residents of Moors Landing in Howell can walk to the New York buses on Route 9. Route 9 provides north and south transportation. Additionally, Route 195 provides easy access to the Jersey Shore, The Garden State Parkway and the New Jersey Turnpike.
Recreation
As a resident of Moors Landing Howell, you're are allowed full use of the public parks in Howell. Additionally, you'll find parks in the Monmouth County Park System. Monmouth County also operates 8 public golf courses.
And if you visit a park in a different nearby town, they probably won't check your identification.
During the summer, downtown Freehold provides free concerts and many other activities. The Adelphia Firehouse has a yearly fund raiser, an all you can eat steak dinner. If you like steak cooked on a grill, don't miss it. Another activity not to miss is the Howell High School Spring Musical. The best performers from six towns attend Howell High School. It's hard to believe these performers are only in high school.
Six Flags Great Adventure is only a few miles west on Route 195. And if you head east, you'll be at the Jersey Shore.
Ready to Move?
When you're ready to either buy or sell a home in Moors Landing Howell, call us – Bunny and Art Reiman – Realtors. We can use our experience and knowledge to help you find your perfect new home, or get your old home sold quickly.
The Real Estate Market
During 2022, 9 condos were sold in Moors Landing. Furthermore, the average sale price was $375,544. Additionally, during 2022, 8 single family homes were sold with an average sale price of $454,125.
Recently Sold Area Homes
During January 2023, no sales were reported to the MLS.
Other Communities Nearby
More Info
More about Moors landing townhouses townhomes for sale
If asked, enter MOORS LANDING HOWELL HOMES FOR SALE
.
Even though the Moors landing townhouses townhomes for sale are in Howell, they actually have a Freehold Township mailing address. The zip code for Howell is 07731 while the zip code for Freehold Township is 07728. Since Moors Landing is on the border between the two towns, I guess the post office decided it would be easier to have the mail go through the Freehold post office. Actually, the entrance in Moors Landing is on Strickland Road and the northern side of Strickland Rd is in Freehold TOwnship.
And, Cameroon is the random country of the day!
Mortgage rates recently went up. As of 2/15/23 the average rates for a 30 fixed mortgage are around 6.12%. However, the interest rate in Panama is 8.125%.
As a rule, often you can purchase a home here for an amount roughly equal to 612600 Cook Islands dollar. In addition, there are no homes for sale here.
Even more info
THe nearest park is actually in Freehold. THe parks which are situated in Howell are a lot farther away. From Moors Landing you can be at a park in Freehold in less than a one mile walk or bike ride.
Howell has a good set of sports programs for your children. You can enroll them into the Howell United Soccer CLub, which offers both recreation and travel soccer programs for all ages. In addition, a private soccer club, Pinelanders, is located in Howell. You'll also find little league baseball, Pop Warner football and basketball programs in town. Many adult sports programs are also available for the weekend warriors who wish to stay in shape. You'll find men's softball leagues and basketball leagues. I believe at one time there was a women's basketball league, but I'm not sure if it still exists.
You can walk to the bus from Moors Landing. Commuter buses run to New York with service provided by both New Jersey Transit and Academy Bus. Local bus service is also available from New Jersey Transit. If you just want to go to New York for a show, you can either take the bus or drive to Matawan and take the train.